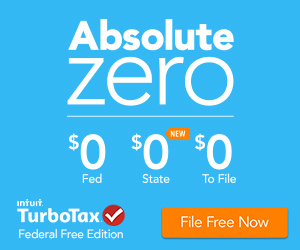 With the new year comes TAX season, and we all share the same LOVE for filing!  NOT!!!  Gone are the days of filling out confusing state and federal tax forms by hand— HALLELUJAH!
Many of us use available software to complete the dreaded forms making it LESS confusing to file taxes.  There is usually a cost involved in purchasing the software, although it is deductible.
Save money by grabbing this TurboTax Federal Free Edition to prepare, print and file your simple tax return all FREE!  With the extremely inflated salary teachers make, FREE is always good!
Download TurboTax Federal Free Edition
Obligatory FTC disclaimer:
"Approved TurboTax Affiliate site. TurboTax and TurboTax Online, among others are registered trademarks and/or service marks of Intuit, Inc. in the United States and other countries. Other parties' trademarks or service marks are the property of the respective owners."