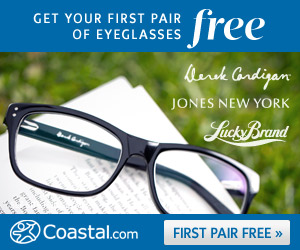 If you wear glasses, grab a FREE pair from Coastal Contacts, you do have to pay shipping of approx $13.00. Use code: FIRSTPAIRFREE  That is still FAR better than ANY price I have paid for a pair of glasses.I've hit that magical age that I now need reading glasses (ugh), so I try to find great prices on single vision glasses. That way, I have a pair at work, home, and car!
Try the glasses at home, if the frame doesn't fit, the return shipping is FREE.
Note, the free pair of glasses is SINGLE VISION. Additional charges for upgrades, but still much less than you would pay by purchasing glasses in the office…what a racket!
ORDER HERE