Irmageddon Day 7
September 16, 2017
It's HOT!!
I can not even believe that I woke up to humidity as thick as pea soup. I mean it's just miserably HOT!
I did my, now, usual routine of using the bathroom and flushing that bad boy using running water-I'm still in awe of that after not having it for several days, wahoo!
Diane  ???????!!!!!!!
But IT'S HOT!
I got dressed in some yucky clothes, had a quick bite to eat, and headed out to fuel up the generator.
It was AFRICA HOT, again!!
The short walk to the generator carrying the 5 gallon jug of gasoline produced enough sweat to fill that same gas can!!
I heard a ruckus and that's when I saw it! The most glorious sight a 7 day, post Irma, Floridian could ever dream of! I felt an adrenaline rush surely comparable to that of an olympic athlete far in the lead of the championship race. I ran back inside to grab my iPhone so that I could film this magnificent event. I was hauling my lard ass down to the end of my street to view that sight, that magnificent white truck with the blue logo that read "FPL" !!!!
And it was HOT!!!
But I no longer cared as I could see other humans from our neighborhood flocking toward the truck. As I neared it, I was thrilled beyond belief because there was not just one but THREE FPL TRUCKS!!!
And it was REALLY HOT!!
I took pictures and video of those most beautiful of trucks as the neighbors and I shared our joy. It turns out that there were several lines down in someone's back yard and FOUR FPL guys were behind their house cutting through the debris. I walked the short way back to my house and grabbed a hideous green stacking chair from the garage, set it in the shade of my front porch, grabbed a cold beverage from my fridge and sat my happy butt down to scope out the situation. After quite some time, I saw the workers emerge from the neighbor's back yard and stop to converse.
And they looked HOT!
And they were HOT!!
They were completely drenched in sweat wearing long sleeves, long pants, those awesome tool belts, hard hats and work boots. They really were the vision I had of them a few days ago but wearing more clothes than I had hoped. In any case, they were a sight for sore, hot, sweaty eyes. I introduced myself, thanked them profusely, and gave them a big,sweaty hug. I told them I had been writing about them all week and could I please have a picture, maybe even one with their shirts off!!!
My heart was crushed as they informed me that they are strictly forbidden to do that sort of thing but I am extremely thankful that they have been working around the clock in this obnoxious, humid, heat to get us all hooked up. In closing, they informed me that they weren't done yet and I would most definitely miss the noon kickoffs of collegiate football games. Oh, well.
It's still HOT!
As I walk back down the street, I might have inadvertently snapped a picture of my new heroes but if I did, I couldn't show it to you on FB but if you were to see me in person I could show you….if I had really taken it….inadvertently…of course.
I neared my driveway and turned around only to see all three trucks LEAVE!!!
WHAT?!! WAIT!! Come back!! My doorbell light isn't lit yet!!
I was confused but confident that my heroes would hook us up but I needed to make sure so I got into my blue, doorbell pranking mobile and…..
I stalked 'em!
I drove to the Trail and as I turned south I spied my buff heroes stopped along the side of the debris riddled road working on the downed lines from the back of the neighbor's house. I just knew I would get power soon because it was HOT!
I continued down the Trail and doubled back to good old Leslie Drive. As I rounded the curve of my street I saw my faux brass, Home Depot carriage lights on the front of my house glowing brightly in broad daylight!
HALLELUJAH!!!! WE HAVE POWER!!!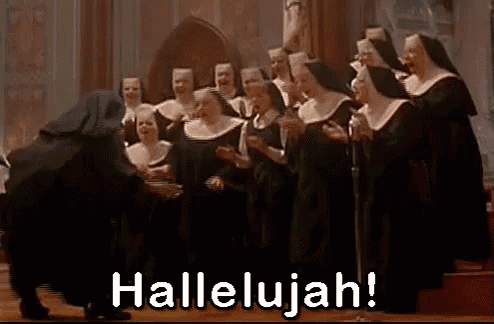 Six hot, muggy, sleepless nights without air conditioning and finally I would be able to close the windows, snuggle with my honey and get a good night's sleep!! No sounds of generators either!!!
It's HOT!! (But I can handle it now)
So in closing I would like to thank each and every one of you because I know after you saw the video of me randomly ringing doorbells last night that you really did call FPL and ask them to hook me up. I'm sure your descriptive reasons given to the phone representatives were confusing and collectively they agreed that the situation was dire since I know they must have received at least fifty calls from you, my close, personal friends and family.
And IT'S HOT!
Gina:  OMG. So glad you have power. I have to tell you how much I've enjoyed all your posts. Dominica & I were re-reading them last night & laughing our butts off. Love the doorbell video. You are the master of posts. Your descriptions were so detailed that I'm laughing as I'm reading them. Thought Monica was the "crack myself up" comedian in the family but you beat her this time. I think you need to somehow save your posts, print them & read at parties!! Thank you & enjoy the AC. BTW, my father has you beat with going thru the last big hurricane and having no power for 9 days. Don't know how he got thru it. Your weather is "very hot". lol